8:47 am
[hatchepsut]

new home
because the office is a retchid place for anyone, i decided to take pussy meow meow home last week. she is much happier.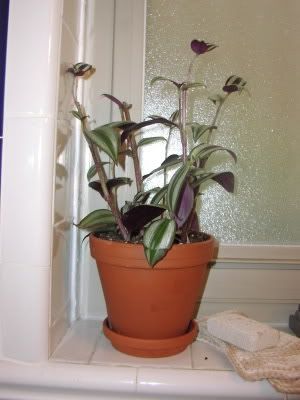 here she is in the shower because i'm out of other cat safe areas to place a plant.
her first taste of sunlight after being in the office had her all twisted and crazy looking... so now i've been rotating her daily.
1:21 pm
[hatchepsut]

brought some food from home.
i made a fresh batch of plant food so i brought some into work with me. i gave a good pot full to pussy meow meow. she enjoyed it quite a bit and when i came into work today the little shoots had grown about an inch!!
amazing plant.
you make my office day worth while... that's so tragic.
i also hate that pics uploaded from work are so tiny...
i've been getting yelled at by clients... a lot. it sucks.
12:56 pm
[hatchepsut]

Growing back.
tiny pics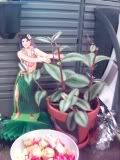 pussy meow meow is keeping some questionable company... first naked boys... now a crazy grass skirt wearing girl!!
and what's up with all the candy??? i'll tell you, candy is good, it's the only thing other then pussy meow meow that will get me through this day.
if you get your magnifing lense out you can see there is amazing growth in the off shoot branches from when i pinched her back. also two of the three stocks that i planted in the soil have taken root and are taking off. the third seems to have fallen out of the soil and is not too happy. i replanted it, and i'm hoping it will be strong enough to spring right back... but i have my concerns.
12:26 pm
[hatchepsut]

hair cut
so she isn't looking too bushy, so i gave her a hair cut.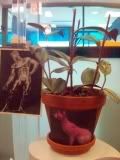 i put the clippings in a styrofoam cup filled with water from the cooler. they will root in no time. once they do i will tuck those into the pot with pussy meow meow.
pussy meow meow herself is getting around the office, currently she's stopped by a post card of a naked boy... MEOW!
one of my coworkers wants a pussy meow meow of her very own... i told her i would get her some clippings from the plants at home. so it wouldn't be the same. more like a sister.
8:53 am
[hatchepsut]

vacation.
i just got back from vacation. and good old Pussy Meow Meow is all big and tall.
i half expected her to be dead, though she was bone dry, she was not dead.
12:56 pm
[hatchepsut]

lots and lots of water.
look at how much i've grown.
i was getting lots of water last week because the office is boring, and watering the plant is fun.
my soil was a bit dry today. so i was watered again.
and look!
there is a neon pink hairless cat on my pot!
what fun!
Current Mood:
happy
12:53 pm
[hatchepsut]

i'm in a new home!
my desk is sooo cozy now.
(no back dating in communities???
this is from April 26th, when Pussy meow meow first moved to the office.